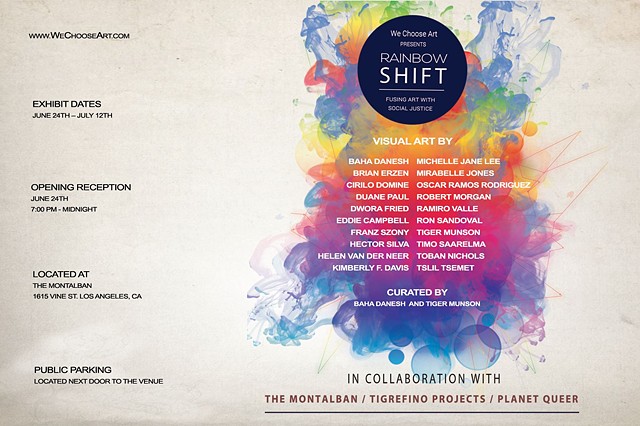 Tiger Munson is a Los Angeles based artist and photographer who gets inspiration from the immediacy of experience, place and people.
Much of his photography is portraiture based: journalistic, conceptual, color and experience enamored, high impact, character loving and spontaneous. Heavily influenced by his background in performance, as well as by myths and Jungian psychology, his images strive to capture the fleeting moments and richness winding through LA city sprawl. Fleeting ephemeral moments are just glimmers of whole worlds, and the idea is to pry that open a bit through the resulting heightened visual document. In this way a small bite of captured time can be a beautiful testament to that experience.
Similarly, his artwork is made up of pieces of fabric, found ephemera, urban posters recontextualized into new incarnations. The resulting castoffs of contemporary culture are an opportunity for new vitality, rather than existing as detritus blight. His commitment to themes of sustainability, social justice, and alternative communities drive and motivate him to make new work.
An advocate of arts education, he is a graduate of UCLA and Harvard University, and holds an MFA in Studio Arts from Cal State Los Angeles. The most important educational process, however, is an ever-evolving autodidactic one which serves the exploration of new skills, ideas, and interactions in order to connect art making to community, our engagement as acknowledged and unacknowledged citizens, and the world at large.
He is the recipient of an Artist-In-Resident grant with the Los Angeles Department of Cultural Affairs.